University of Latvia
Located in the capital of Riga the University of Latria is the only classic university in the country that allows for studies in such fields as the humanities, science and research, education, medicine, and the social sciences. The University of Latvia was created as a national University for the country of Latvia and it symbolizes the country's culture and independence. The University of Latvia in Riga is also the largest university in the Baltic States.




The fields of research at the University of Latvia vary as they offer different fields of research and studies to give students an education that is of high European standards. The university cultivates the language of Latvia as well as cultivating the country's tradition of working together with the international community.

The University of Latvia has a tradition of cooperating with the international community. The University of Latvia has bilateral agreements with 54 universities in 25 different countries from France to the United States. The university has membership in the international university organizations and networks. One important aspect, in which the university fosters international cooperation, is the fact that there are international exchange programs for students as well as teachers.

The library on the campus of the University of Latvia dates back to 1862. Many of the books were lost during both of the World Wars but now boast over 2.1 million books. The library runs on an Advanced Library Information Service as it is the first and only professional library system used throughout the country. The bibliographical records are made in accordance with England's MARC standards. One main aspect of the library is that it has 10 different branches in Riga.

The University of Latvia offers many areas of studies and has many faculty members to help with the students educational goals. There are faculties for the subjects of biology, chemistry, economics and management, education and psychology, geography and earth sciences, history and philosophy, law, medicine, modern languages, physics and mathematics, social sciences, and theology.

The University of Latvia in Riga offers many opportunities for students from Latvia or internationally to pursue their education.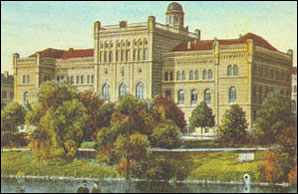 Architect: G. Hilbig, 2nd half of 19th century


More information at: www.lu.lv



@include("google.php"); ?>